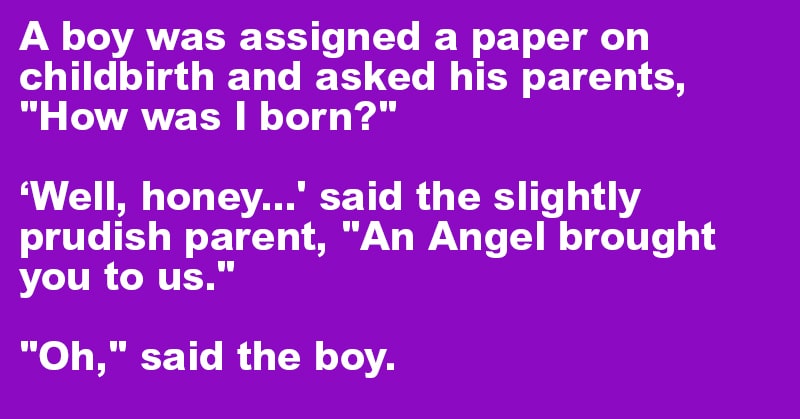 A boy was assigned a paper on childbirth and asked his parents, "How was I born?"
'Well, honey…' said the slightly prudish parent, "An Angel brought you to us."
"Oh," said the boy.
"Well, how did you and daddy get born?" he asked.
"Oh, the angel brought us too."
"Well how were grandpa and grandma born?" he persisted.
"Well darling, the angel brought them too!" said the parent.
Several days later, the boy handed in his paper to the teacher who read with confusion the opening sentence: "This report has been very difficult to write because there hasn't been a natural childbirth in my family for three generations."
LOL!! SO CUTE!!
Hope this joke will make you smile! Have a nice day!!
An Innocent Farm Boy
A young farm boy accidentally overturned his wagon load of corn.
The farmer who lived nearby heard the noise.
"Hey, Willis !!" the farmer yelled.
"Forget your troubles. Come in and have dinner with us. Then I'll help you get the wagon back up."
"That's so nice of you," Willis replied, "but I don't think Dad would like me to."
"Nonsense, come on!" The farmer insisted.
"Well, okay," the boy finally agreed, "but Daddy won't like it."
After a hearty dinner, Willis thanked his host. "I feel a lot better now, but I know Dad is going to be real upset."
"Don't be foolish!" the neighbor said with a smile. "By the way, where is your Pa?"
"Under the wagon," Willis answered.
LOL!!
Hope this joke will make you smile! Have a nice day!!
Under article ad unit (above the comment section):