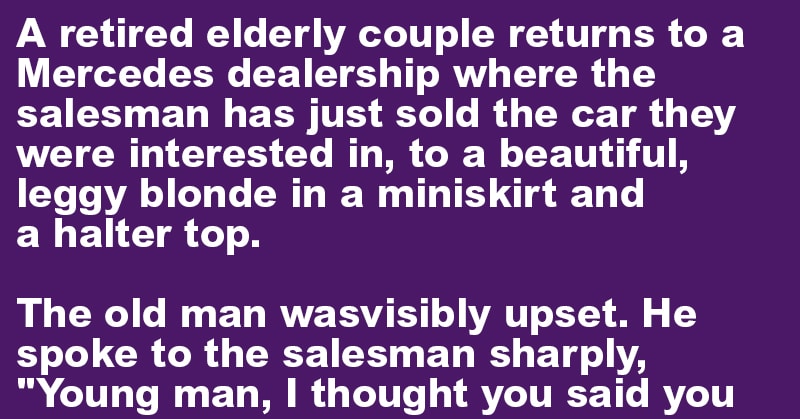 A retired elderly couple returns to a Mercedes dealership where the salesman has just sold the car they were interested in, to a beautiful, leggy blonde in a miniskirt and a halter top.
The old man was visibly upset.
He spoke to the salesman sharply. "Young man, I thought you said you would keep the car until we raised the asking price by $55,000," said the older man.
"But I just heard that you got the $45,000 deal for the beautiful young lady over there."
"And if I remember correctly, you insisted there was no way you could discount this model."
The salesman took a deep breath, cleared his throat, and took a large glass of water.
"Well, what can I tell you? She had the money ready, didn't need any financing help, and, Sir, just look at her, how could I resist?" replied the grinning salesman sheepishly.
At that moment, the young woman approached the elderly couple and handed them the keys to the car.
"There you go," she said. "I told you I could get that idiot to lower the price. "See you later, Dad!"
LOL!!
Hope this joke will make you smile! Have a nice day!
A Blonde Tried To Sell Her Old Car
A blonde wanted to sell an old car but couldn't find a buyer.
She called her friend for advice and her friend asked her how many miles she had on her car.
"235,000 miles".
Her friend told her that was the problem.
But the blonde's friend told her that her brother is a mechanic and that he could put back the miles to whatever she wanted.
So the blond went to the mechanic and told him to put the miles at 40,000.
Two days later, the blonde's friend asked her if she had sold the car since her brother dropped the miles.
The blonde said to her, "Why would I sell the car? It's only 40,000 miles on it!"
LOL!!
Hope this joke will make you smile! Have a nice day!!
Under article ad unit (above the comment section):